Current Auction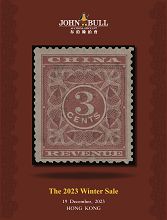 The 2023 Winter Auction - Sale 342
Sale 342
December 16th - 19th 2023, Hong Kong
The 2023 Winter Auction - Sale 342
Sale 342
Live Bidding @ John Bull Auctions
How do I bid in a Live Auction?
When the auction is about to start you will see the count down for this auction. If you are logged in you will be able to scroll through the lots and flag lots that you would like to bid on. The computer will then give you a reminder when these lots are up for bidding. With the audio link you can hear the auctioneer.
When the auction is about to commence the first lot will be displayed. A button will appear showing the amount currently being asked. To bid for the lot simply click the button. The screen will show if you are the current winning bidder. If you have bid and this does not show then another web bidder has got in before you. This means you need to bid again until you see you are the current winning bidder. If you are the successful bidder when the lot is sold the auction house will be in contact to arrange payment and shipping
How does live-bidding work?
Live-bidding is like bidding in the auction room through your computer.
How do I activate live-bidding?
If you are already a registered user all you need to do is login to the website on the sale day.
If you are not yet a registered user you first need to complete our simple registration process.
Online Bidding
To bid live online during the auction, all you have to do is register here and enjoy a lot of benefits!
Consignment
You have stamps for sale and want to contact us or just want to know, if we're the best partners?

You are new here? Register today.
Register once with your personal data and you will be able to use all functions of this page quickly and comfortable in the future.